Membership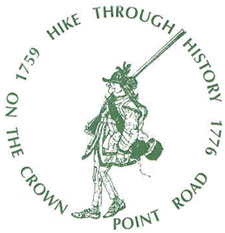 The Crown Point Road Association, a non-profit all-volunteer organization was formed in 1958 by a group of people interested in commemorating the 200th anniversary (1959) of the construction of the historic military road. The Association gained in support and interest and continues its mission today to research, mark and preserve the history of Vermont's first road.
Each summer guided hikes are conducted on various sections of the road (See The Event Calendar) The Association hopes to encourage public awareness of the historical importance of the Crown Point Road and the legacy left to us by the early road builders, soldiers, patriots and settlers who followed its track through the wilderness. Membership is invited.
Please complete the Membership Application Form below, then print this page, and mail it along with your annual membership fee to the address listed (sorry we are not able to accept on-line payments).
As part of your membership you will receive reduced rates for Association publications, as well as annual mailings of the Association calendar of events and newsletter. Thanks!
Print & Mail to:
Crown Point Road Association
c/o Whitney Christie
52 West St.
Proctor, VT    05765-1042